If you would like to order a completely customized Panoramic Sukkah Kit – walls and frame – you've come to the right place!
At The Panoramic Sukkah, we have partnered with our friends at The Sukkah ProjectⓇ to offer our customers fabric sukkah walls printed with a beautiful panoramic image of Israel AND a lightweight, easy-to-assemble metal frame!? You can even add reusable bamboo schach mats to your order for an additional cost.
Do you need a Panoramic Sukkah Kit

in a size not listed on our site

?

Are you looking for a

hexagonal sukkah

?

Maybe you want a panoramic image for two or three walls?

Would you like to insert a picture of your family splashing in the Banias Waterfall, or your pet goat wandering around Kadesh Barne'a in the Negev Desert?

Possibly you would like to commission a completely new image for your Sukkah?
You can read about the Panoramic Sukkah Kit features below, and you can request a quote for a Custom Panoramic Sukkah Kit above.
The deadline for ordering a Custom Panoramic Sukkah Kit is Sunday August 14th!
If you can conceive it, we will do our best to create it!
Panoramic Sukkah Kit Features
The image is printed floor-to-schach along the entire length of all four sukkah walls – for a truly immersive experience!  If you prefer, you may add doors and windows for a small additional fee.

The Panoramic Sukkah Wall is printed on fabric that is semi-translucent; the sukkah illuminates in daylight, and its look and feel shift subtly as the sun moves through the sky!
The Panoramic Sukkah Wall is printed on outdoor banner fabric – a durable, wind-resistant, mold-resistant polyester; it drapes beautifully and feels substantial and luxurious!
The high-quality, eco-sensitive, permanent inks used to print the Panoramic Sukkah Wall create a rich, vibrant image. The print is odour-free, water proof, flame resistant, and UV-stable – it will last for many years of Sukkot holidays without fading.
The Panoramic Sukkah Wall has sturdy rust-proof grommets along its perimeter – it is simple to hang with lock ties or bungee loops!
A beautiful Panoramic Sukkah Wall printed 360o and floor-to-schach (ceiling) with the Kadesh Barne'a image and elastic bungees to attach the walls to the frame.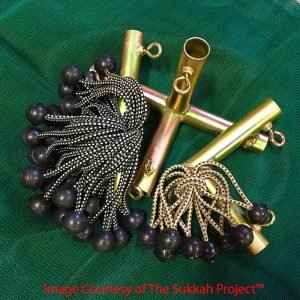 An easy-to-assemble Sukkah ProjectⓇ frame made of strong, durable, lightweight galvanized steel tubing.  The walls are connected by special klutz-proof steel fittings – no tools or special skills are required to erect a Panoramic Sukkah Kit!
Bamboo schach-support slats and attachment bungees.
A

Sukkah Project

Ⓡ assembly manual that clearly lays out the steps to constructing your Panoramic Sukkah Kit.